October Magic
For years now I have had one simple request of my editors at SI: To shoot as much October baseball as possible.
Since the first postseason I followed in 1972, the intensity, unpredictability, and specifically, the joy and heartbreak of the games mesmerized me.
I have been fortunate to shoot every postseason since 1993, and at least part of 17 of the last 20 World Series. The simple reality is the more big events you cover, the more likely you end up at the truly memorable ones, where iconic pictures are made. That's the best part of this job….those moments where I'm truly tested as a photographer.
Other sports don't shut down during October, so there's always some compromise about filling in features and football games between - or instead of - baseball. This makes the schedule erratic, and a nightmare for my family. The simple uncertainty of the length of individual series, and which teams you'll follow, leaves little room for planning. My wife Amy hates October…but I love it!
The weekend of October 10-12 was a perfect storm of baseball, work, and family.
October 10
That they played ALCS Game 1 was nothing short of miraculous. The weather forecast was horrible; a band of rain stretching across the eastern half of the country was moving towards Baltimore. Friday's game would surely be postponed to Saturday, and Game Two to Sunday, washing out my Giants-Eagles Sunday night assignment….and more importantly, a last chance to coach my Fall baseball team Sunday afternoon.
Friday the front miraculously evaporated, and the game started on time. This Series is the perfect collision of two young teams fighting for that first taste of postseason success in a long time. That means someone is going to go nuts when they win, and that means great pictures.
Pinched in the photo well just inside the O's dugout with the batboys, the bucket of game balls, and the MLB Authentication Crew (authenticating game-used baseballs, bats etc. for sale), and managing the towels and rain covers during the last few innings of drizzle, the Royals staged another electric, extra-innings comeback to take the first game. Game duration: a leisurely 4:37.
October 11
Mother Nature must dig the long ball too, because the rain that drenched the Chesapeake region all night stopped in time for an early 4pm start. It took "only" 4:17 of clutch, tight baseball for the Royals to manufacture another inexplicable last at-bat victory. They lead the series 2-0 and were heading home to Kauffman Stadium. Lorenzo Cain went 4-5 (who the hell is Lorenzo Cain?) and made a highlight reel diving catch.
Now the O's are in trouble. The side story here is that my son Aaron, a freshman at GW in DC, worked as one our photo assistants and as one of the media card runners for MLB during the series. He was slated to do so for the remainder of the ALCS, and possibly, the World Series. That meant some bonus time with my kid for me, and a break from the apparently grueling weekends at GW for Aaron. I got the impression the deep sleep he enjoyed in my hotel room those nights was well needed! If the O's go down, so does that dad & Aaron time.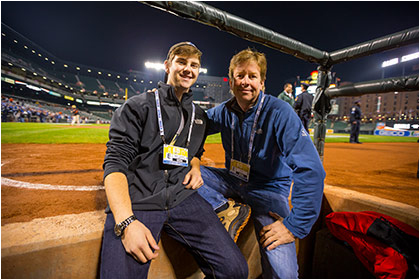 October 12: am
Sunday morning I dropped Aaron off at GW, and headed back home. The Lenape Valley Baseball Connie Mack Fall Ball team I manage -- with the help of several of the dad's --had an away game at 1pm.
Connie Mack is a Pennsylvania Summer League for kids 13-16. It fills the gap between Little League and American Legion, and for 13 year-olds is the first experience on the major league-size field. That means Fall Ball is really the first experience of the big field for the incoming 13's….who are still 12. CM is broken down into divisions determined by talent, A, B1, B, C1 C. Fall Ball is simply A, B or C and much more casual. We had 14 kids register spanning those ages, so we just entered a B team. That meant our 12 year olds, about half our team, would be playing against much older, bigger players. We're also a hodge podge of kids from different LV teams and play most of our games against teams that have played together before. We keep it lose, move kids around, share the pitching an inning at a time, and just try and have fun. My younger son Xander is our pitching coach and has spelled me when I've been away, but he was hydrocodoning on the sofa after his wisdom teeth surgery on Friday.
The wins have been tough to come by, but the team is the toughest bunch of kids I've ever coached. Jack Covey is still eligible to play Little League next year but is one of our toughest, smartest players. A catcher, he got spiked at the plate by a kid twice his size recently, but finished the game. Danny Fountain, a fungo bat-skinny pitcher, baffles hitters a foot taller and twice his weight with his off speed magic. He also took a one hopper off his brace-filled mouth in a game, and came back to lead off the next inning with a hit. I could go on about all these kids; it's been a great time coaching them.
(Clockwise from upper left: Alex Wiley, our offensive catalyst with Jack Covey in the foreground; Nick Hadik got the start and held the meat of the Horsham lineup to two runs; fretting over a long inning with coach John Miller; Billy Freeman after striking out the side; Jack Covey, our youngest player tries to avoid a tag; Drew Smith, our most novice pitcher working a great inning of no earned runs. Photos by John Birk)
Sunday we stayed with a tough, much older Horsham team, which was a win for our guys. My former SI photo assistant John Birk, who coached many seasons of LV games with me, came out and shot the pictures of us.
October 12: pm
Home for a quick shower and off to Lincoln Financial Field for the night cap. We watched the Cowboys complete their win over the Seahawks in the transmit room, then went out and watched the black-clad Eagles (who's idea is black uniforms for a night game, anyway?) put an unexpected beatdown on the Giants. My neck camera, a Canon 1DX with a 24-70 attached, had the AF cursor switched to a grid of nine small squares. I, with requests to several fellow shooters, could not find the solution in this camera's labyrinthine menu to get back to the single cursor….so I left it as is, and ended up making a sequence of Zach Ertz' incredible touchdown catch…guess the camera knew what to do!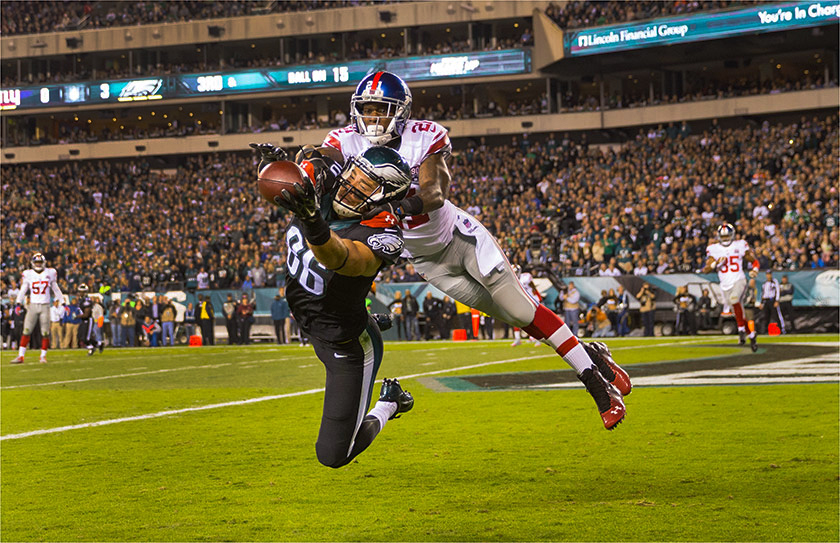 Two thrilling Postseason games, a fall ball game on a brilliant October afternoon, and a SNF game where they start running out the clock at the half, all in under 52 hours….October rules!
---
MLB Playoff images and NFL game photo © 2014 Sports Illustrated/Al Tielemans
Photo of Aaron & I by Rob Carr
Photos of LV Baseball game by John Birk
Tech Specs: Canon 1DX, Canon 70-200 2.8L (Play at plate), Canon 200-400 4.0L (Cain catch), Canon 24-70 2.8L (Ertz catch)