What makes a Great Sports Photograph?
I was recently asked this question...again. Oddly it never comes up amongst photographers...I guess we just hope our editor's recognize when we take one! Quite honestly, I probably answer this different every time I'm asked.
So here goes my July 2016 answer....I have to narrow this down to covering a competitive event. There has to be something at stake, a story being told. A picture must have technical and creative elements that achieve a feeling that both premiere athletes and mere mortals can immediately relate to.
As a sports photographer we generally look for peak action that shows athletes performing so gracefully or powerfully that we can imagine ourselves doing the same, and intriguing feature photos that capture a moment of pure emotion that we can all immediately relate to.
In the context of a sports contest, these are the bread and butter moments of our working lives as sports photographers.
When the two overlap, there is a rare magic at play.
Here are four of my images I feel best capture these qualities.
For sheer simplicity, and the illusion that great athleticism is deceptively easy, I chose this image of US Snowboarder Shawn White at the '06 Torino Olympics. White, seems to float effortlessly through the air. His runs through the half pipe, however, were feats of unmatched strength and technique. No other snowboarder came close to reaching the heights White reached on his jumps; but here at the peak of his gold medal winning run, he appears to float calmly, effortlessly against the blue Italian sky.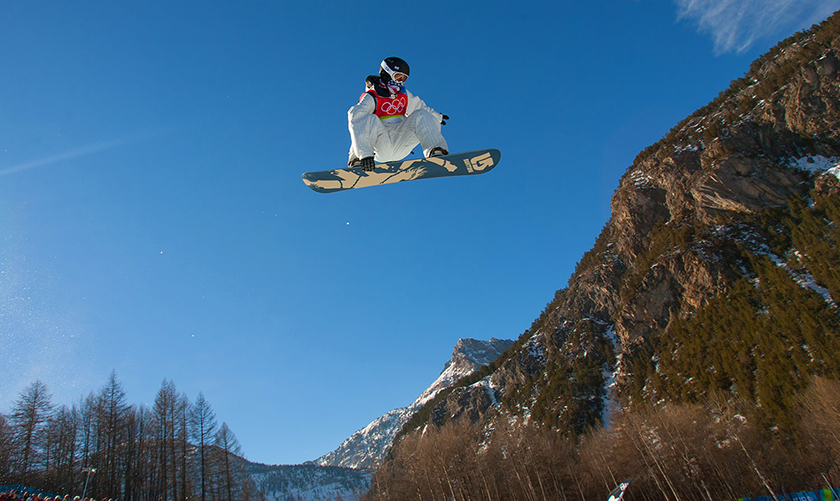 Born to Belgian parents and a frequent visitor to Belgium, I must confess to choking up when the Black, Yellow and Red flag marches into the Olympic Opening Ceremonies. Through the 13 Olympic games I've covered, opportunities to photograph Belgian medalists have been slim; but as High Jump gold medalist Tia Hellebaut began her victory lap in the Bird's Nest in Beijing, she received a massive flag and when she waved it in the cool Beijing breeze I got misty again.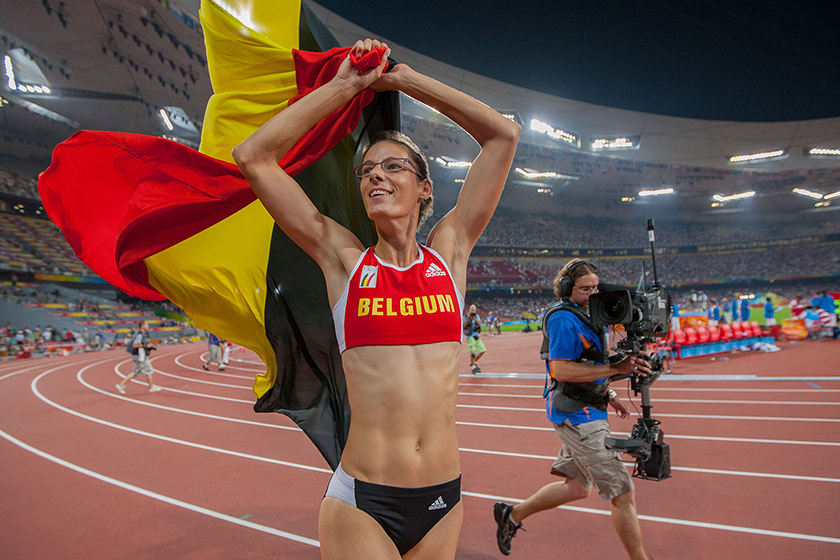 Heroes and villains abound in sports. New England Patriots quarterback Tom Brady is alternately loved and despised for his skills, championships, model good-looks and his actual supermodel wife. Richard Sherman is a brash trash-talking defensive player for the Seattle Seahawks whose star shines less bright than Brady's. But at the end of Super Bowl XLIX, Sherman's Seahawks were just feet away from victory when a turnover gave the ball back to Brady's Patriots to effectively end the game. Just before running out the clock the two warriors found themselves face to face, and in what is clearly the epitome of sportsmanship, the vanquished Sherman offered congratulations to his foe.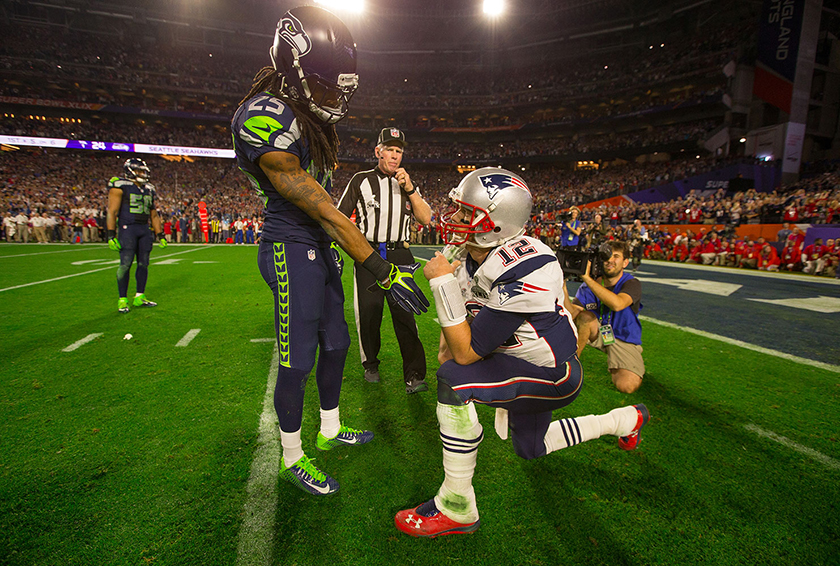 Without night there can be no day. Victory in sport comes at the expense of another's loss. But capturing the moment when almost certain victory is lost, is both exhilarating as a photographer, and agonizing as a human. The next image is such a moment. A moment that combines my quarter century of skill and experience, and the fortuitous ounce of right-time/right-place luck we all lean on at times.
USA's Lolo Jones was favored for gold in the women's 100m Hurdles at the '08 Beijing Summer Olympics. I trolled the infield for a clean background, debated whether to slow my shutter speed for effect, and tried to guess which hurdle would provide the best picture: Lolo leading the pack across a hurdle, victory just a few strides away. Too early in the race and Lolo could still be buried in the pack, too late and she could be too far ahead of the pack and cross the hurdle alone. I pick the ninth hurdle, and Lolo, leading the pack perfectly, hits the hurdle and, incredibly, stumbles to 7th place.